Maxwell new 3V super capacitor to create a new pattern of the industry
The new 3V/3000F monomer with DuraBlue? Technology for transportation, wind power and power grid energy storage solutions provide more choices
February 23, 2016, Shanghai, China News - the industry-leading super capacitor storage and transmission to solve the program developer and manufacturer of Maxwell technology companies (NASDAQ: MXWL) recently announced the K2 series added a 3V/3000F super capacitor monomer members, and can provide samples. 60mm cylindrical package of the monomer with the industry standard, the existing power ratio Maxwell leading 2.7V/3000F monomer 31%. Customers can now choose flexibly, can enhance the power and energy available in the same volume, but also in power and energy remain unchanged or reduce the number of single module, greatly reduce system cost.
Maxwell new 3V super capacitor monomer
The new 3V monomer design using Maxwell DuraBlue? Advanced anti shock and anti vibration technology, compared with the super capacitor based on competing products, anti vibration and anti shock performance increased by three times and four times respectively. Even in the bad condition in the application environment such as rail transportation and hybrid bus, the life of the product can be guaranteed. By adopting 3V monomer can be used to improve the system, including the upgrading of power system, reduce the weight of the engine and improve the fuel efficiency of the transportation industry. In terms of power grid applications, the 3V monomer has a greater power, so it can be more effective to suppress fluctuations, improve power quality, reduce operating costs, thereby increasing the rate of return on investment in power grid. The new 3V monomer uses the industry standard 60mm cylindrical package, while having the same life parameters as the 2.7V monomer. So for customers who have adopted K2 Maxwell series 2.7V and 2.85 V monomer, can upgrade their system seamlessly.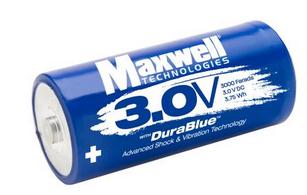 With the transportation, wind power and power grid and other industries to increase the demand for higher power density, Maxwell launched the 3V super capacitor, to further enrich its large monomer product series." Frost & Sullivan's energy and power systems manager, research and development consultant Vishal sapru said: "new 3V large monomer can used alone, can also be used with the hybrid battery, helps to reduce total system cost and weight, improve operational efficiency. This product will subvert the pattern of the super capacitor industry."
Maxwell technologies president and chief executive officer Franz Fink, said: "in the same size provides higher power and Maxwell's large-scale production capacity and allow us to pay more for our customers to provide first-class performance and value, especially in transportation, wind power and grid applications. The advent of 3V super capacitor, to further expand our product line, which makes our existing customers can not only flexibly meet the needs of high voltage or low cost applications, but also can reduce system weight and enhance investment returns. "
The energy storage capacity of the super capacitor is different from that of the battery which is produced and stored energy through chemical reaction. Super capacitor of the electrostatic storage mechanism to make it not only can a seconds to complete charge and discharge, normal work within the temperature range of - 40 degrees C-+65 DEG C is widely and reliable operation millions of times charge discharge cycle and resistant to vibration, impact resistance. Maxwell can provide capacitance for multi monomer module of super capacitor 1~3000F monomer and 16~160V. Super capacitor whether used alone or in combination with batteries can provide higher power. The super capacitor has been widely used in automotive, consumer electronics, transportation and other applications.
About Maxwell technology:
Maxwell technology solutions in developing and manufacturing industry occupies the leading position in the world in innovative cost-effective energy storage and transmission. Provide safe and reliable power supply of super capacitor application of our products for consumer and industrial electronics, transportation and telecommunications solutions. We are the high pressure and coupling capacitor helps to ensure the safety and reliability of electric power facilities and applications such as power transmission and distribution system and pressure measurement system. Our products of anti radiation electronics including power module, memory module and single board computer, combined with commercial chip powerful, can provide excellent performance and high reliability for aerospace applications.